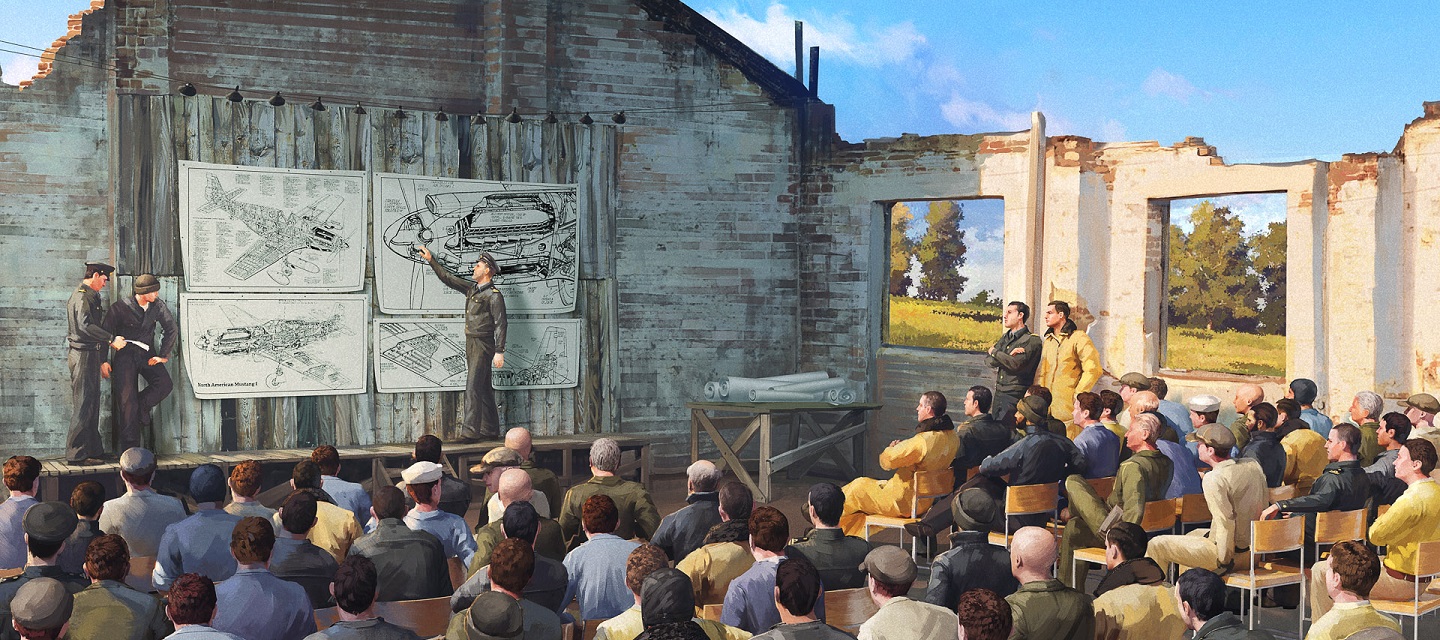 Answers to community questions for the development team of War Thunder Mobile
A number of questions were gathered by the community, and we are pleased to answer them.
1. How did you come to the idea of returning to mobile development? Why now? We know that you initiated the War Thunder mobile project almost 10 years ago, but it was idle for years.
It is true, we decided to start working on the mobile version of the game many years ago. Basically, immediately after we saw the growing popularity of War Thunder on PC and consoles. Our Dagor engine was initially created with an ability for porting on all suitable platforms, and the game was ready for it. It is that smartphones were not ready for our game :) As hardware in handhelds improved, we returned to the development of War Thunder Mobile. 
2. How many people are working on a project? How enthusiastic are they? 
War Thunder Mobile is being developed by a new internal team in Gaijin Entertainment under close supervision of the initial War Thunder creators. The number of people in the project might shift depending on current tasks, but we are talking about dozens of people. 
So the team is ready to rock! Developers are working hard to prepare a release version of the game - so no time to relax. We actively gather your feedback, fix bugs and issues in the Open Beta, add new content and features. 
It is really great that now, during the beta testing process, we already see an active player community forming. You help us a lot by recording videos of gameplay and issues, by sending in log files to locate bugs to be fixed. You also suggest many interesting ideas on how to improve the interface, controls and functionality of the game. It helps the development process enormously and motivates all of the team. 
3. Currently WTM features unique craft - submarines, which do not exist in War Thunder. Do you plan more of the unique content for WTM specifically? You can just say "plan" or "we do not plan" 
Yes, We are planning it :) WT and WTM are two different projects run in parallel, so unique content can be added to WTM as well as to WT. Both temporary and permanent. 
4. What do you think about your competitors in mobile military vehicle games like WoT Blitz, Tank Company?
We can not comment on the work of other companies and their products. But of course, we are carefully studying their experience and respect their work. 
5. Do you plan to add some non-typical tanks or mechanics? Like dumping blades on engineer tanks, flame throwing tanks, etc. 
Currently we are focusing on core game mechanics. Later we might return to design possible extensions and new gameplay features like you mentioned. 
6. Will you add more high-ranking tanks in the future? Not just the ones now visible but blocked in the research tree. 
Yes, we do plan to add new vehicles to the game, including the most modern ones. 
7. Do you plan to change or expand the game shop content? Will we see something like Battle Pass or boxes?
Naturally we plan to create a system of regular tasks and rewards, including the Battle Pass mechanics. Our focus now is to ensure you can enjoy interesting and dense battles, port maximum of the gameplay from War Thunder on PC. Game shop is not a priority right now. Though, it will also grow and change together with the game in the future.
8. Can we expect something to create custom camouflages in WTM? 
As of now, we have added only a small portion of planned vehicles to WTM. So our main task is to work on new tanks and ships, not their cosmetics or camo. Also you have to understand that on mobile devices we are seriously limited in disk space, so we need to be very careful when selecting new content to be added to the client. That is why now we do not plan to expand mechanics for custom camouflaging of vehicles in game.
9. Will WTM content be added to the Market for GJN?
No, we do not have such plans.
10. Can content creators expect personal referral links or codes to promote WTM? 
Yes, we are working on bringing a Content Partnership programme to WTM like we have in other Gaijin games.
11. Do you work on releasing WTM not only in Google Play but on other android-based markets as well, like Chinese AppGallery or RuStore? 
Our task now is to release War Thunder mobile in Google Play Store and Apple App Store. Only when it is done, will we analyze if the game will benefit from other release options. We will also study player demand while doing it. 
12. Any plans to prohibit or sanction usage of emulators or keyboard and mouse in the game? 
Existing Android emulators are not powerful enough to launch our game because of their technical limitations. As for external controllers: War Thunder Mobile already is supporting the gamepad usage. And the gamepad is way more comfortable in this game than any attempt to use keyboard or mouse. 
13. How can I report offending nicknames or supposed usage of cheats and other non-sportive behavior?
You can already use the in-game menu to send reports to us via our reporting tool. Also our team is collecting feedback, suggestions and complaints on the official Discord server. Please, bear in mind that recording and sending in video helps a lot to analyze your complaints and make decisions or fixes faster. 
We also might add some more tools for in-game reporting later. 
14. How long can it take to see the replay system in WTM? 
Currently we do not work on replays. But we might decide to add that functionality later in the game.