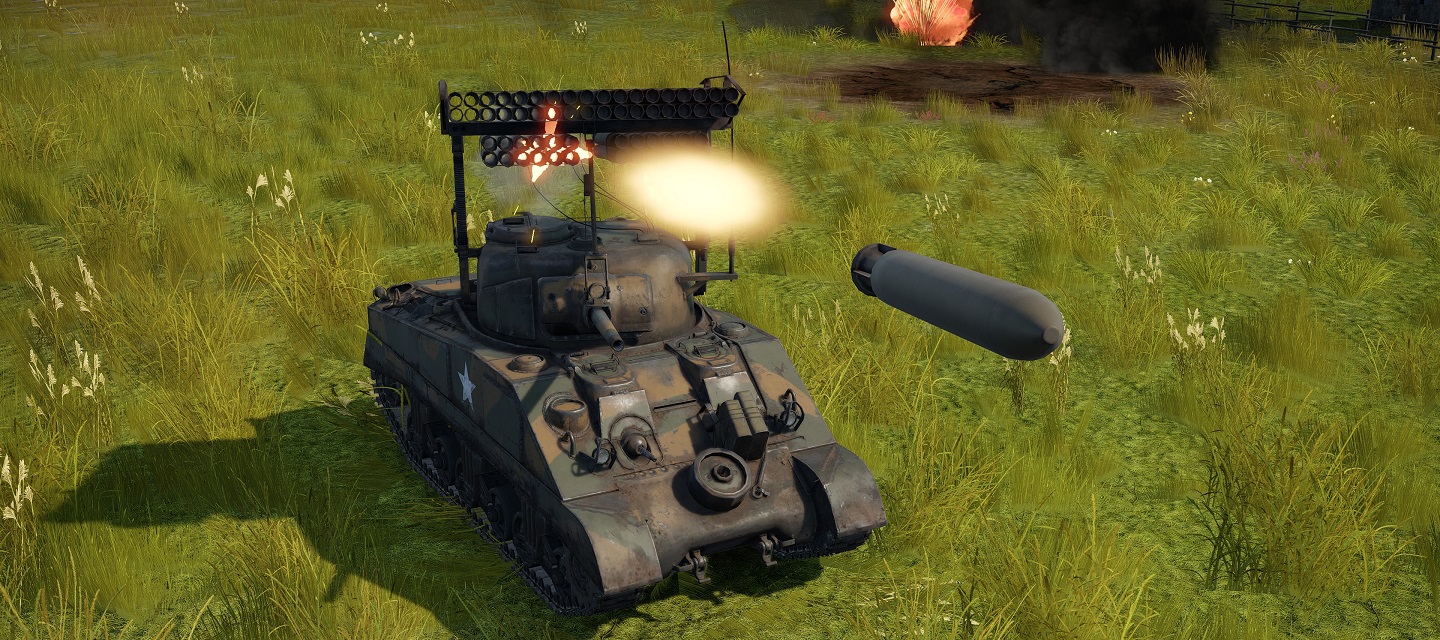 Calliope and T-54!
Here comes true trouble for your enemies! Meet the Calliope MLRS and the T-54 medium tank, as well as a dozen other amazing machines of war, in the upcoming War Thunder Mobile major update. Let's take a closer look!
Calliope MLRS
Unleash a rain of fire upon your enemies! Meet the frontman of the US premium squad at rank II - the famous MLRS Calliope.
Unlike other WWII rocket launchers it was based on the perfectly protected M4 Sherman which made it possible to use directly on the battlefield. Its 114mm M8 rockets can penetrate 29mm of armor at any range and the rig is capable of firing 60 of these rounds in total! The enemy can't run from a whole hail of fire from a rocket launcher and a fairly powerful and accurate 75mm cannon is perfect for sniper fire at any distance.
Also in the squad is a Canadian M4A5 Ram II - medium cruiser tank with excellent frontal armor and crew of six - survivable, mobile and suitable for playing both offense and defense.
The T1E1 heavy tank will surprise you with its great reverse speed and a powerful 76mm cannon while the mobile ZSU M19A1 easily captures points and thanks to tracer shells, quickly and effectively shoots at air targets. Together they make a versatile squad ready for all possible game situations!
Т-54 (1949)
Meet the first tank of rank VI - Т-54 (1949)!
This is a real all rounder on the battlefield. It is especially well suited for close combat due to excellent hull armor, good mobility and powerful APCR shells. And for any air threats it has a heavy anti-aircraft machine gun!
The T-54 will be accompanied by the powerful and survivable T10-A - a heavy tank with stabilizer and night vision device. The experimental floating Object 906 has excellent maneuverability and fire rate and the SPAA ZSU-23-4 "Shilka" is able to flood the sky with a barrage of fragmentation shells without reloading. Fill the power of advanced high-level vehicles!